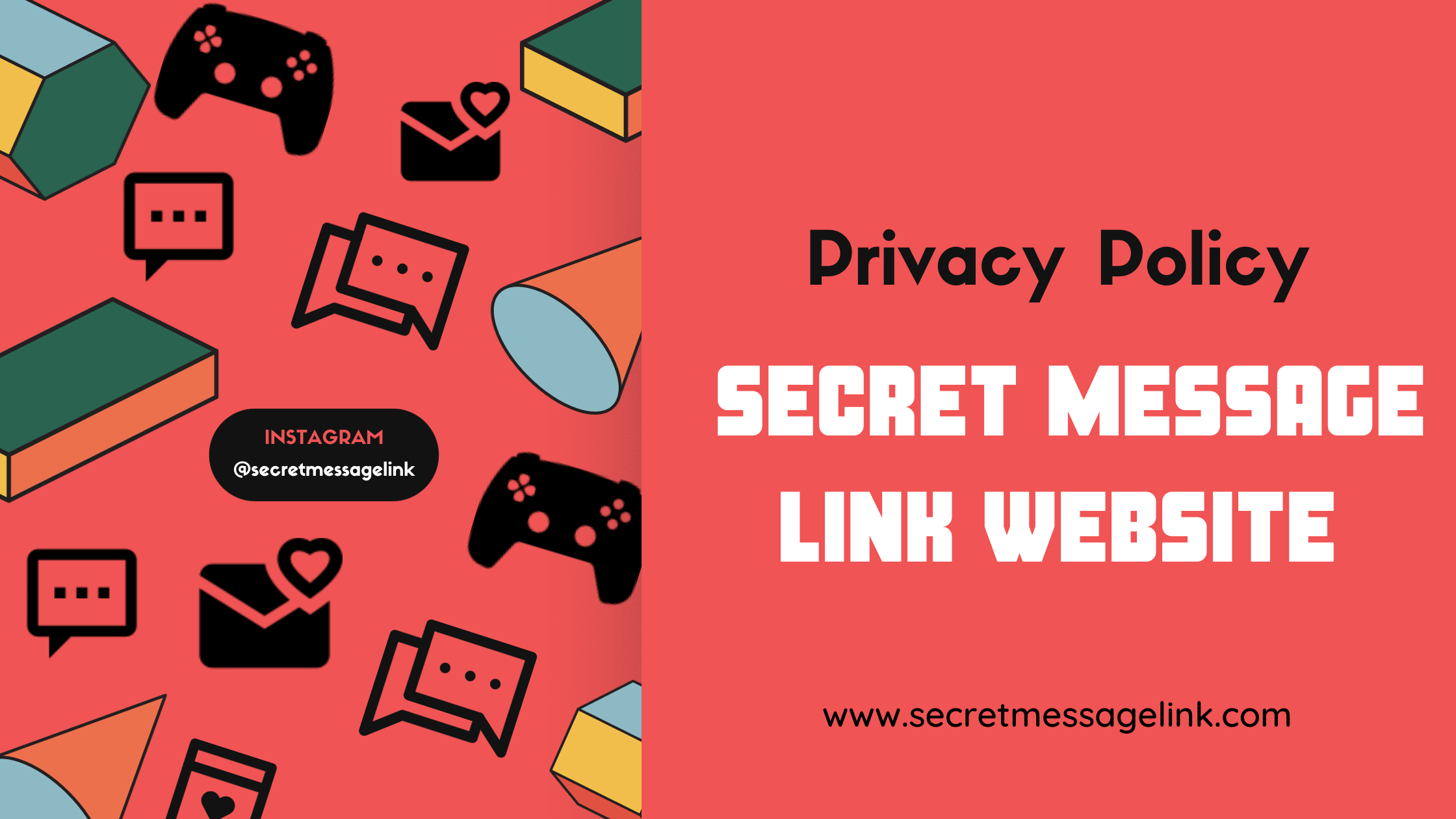 At Secret Message Link, we take online privacy seriously and we respect the concerns of our community of users. In this policy, we describe our privacy practices about the information we collect through secretmessagelink.com and affiliated sites (the "Site"), to help you make informed decisions about how you share information when you visit or use the Site.
Understanding How Information Is Collected on Secret Message Link:
Information You May Choose to Provide to Us
We may collect information, including personally identifiable information, directly from you if you choose to provide that information. For example, you may provide us with your name, when you sign up for our website or participate in promotions or surveys on the Site.
You also may choose to provide personally identifiable information about yourself when you send a message to other users.
Information That Is Automatically Collected When You Visit Secret Message Link
When you access the Site, we and our third-party partners and vendors may automatically collect certain information about your visit using tools such as cookies, web beacons, and other similar technologies. The information collected automatically when you visit the Site may include your IP address, characteristics of your operating system, information about your browser and system settings, data about the computer or mobile device you use to access the Site, unique device identifiers, clickstream data (which shows the page-by-page path you take as you browse the Site), and other details that generally are not considered personally identifiable.
Cookies are small files that websites and other online services use to store information about users on the users' computers. This Site may use cookies (such as HTTP and HTML5 cookies and Flash cookies), as well as other types of local storage. For more information about cookies, you may visit http://www.allaboutcookies.org. See the section below regarding Your choices to learn more about how you may limit or disable cookies on your computer. If you choose to disable cookies, that could affect certain features of the Site that use cookies to enhance their functionality.
To manage our automatic data collection, we may place tags (often referred to as "web beacons") on pages on the Site or in emails we send to you. Web beacons are small files that link web pages to particular web servers and their cookies, and they may be used for a variety of purposes, such as counting the number of visitors to the Site, analyzing how users navigate around the Site, assessing how many emails that we send are opened and which articles or links are viewed by visitors.
We also use third-party web analytics services, such as Google Analytics, on the Site, to provide us with statistics and other information about visitors to the Site. Click here to learn more about Google Analytics and how you may opt-out.
"Do Not Track" Signals. Your browser settings may allow you to automatically transmit a "do not track" signal to websites and online services you visit. At this time there is no consensus among industry participants as to the meaning of "do not track" in this context. Like many other websites, secretmessagelink.com is not configured to respond to "do not track" signals from browsers. Click here to learn more about "do not track" signals.
Finally, companies that provide certain third-party apps, tools, widgets, and plug-ins that may appear on the Site (for example, Facebook "Like" buttons) also may use automated means to collect information regarding your interactions with these features. This information collection is subject to the privacy policies or notices of those providers.
How We May Use Information We Collect
We may use the information gathered on Secret Message Link for various purposes, including the purposes listed below. For example, if you were to contact us with a question and provide your email address, we would use the email address you provided to respond to your inquiry. Also, we use the information we collect from you and through the Site to:
Provide products and services you request (such as when you sign up to receive secret messages);
Offer you products and services, or direct you to portions of this Site or other websites, that we believe may interest you;
Communicate about, and administer your participation in, events, programs, contests, and other offers or promotions;
Carry out, evaluate, and improve our business (which may include developing new features for the Site; analyzing and enhancing the user experience on the Site; assessing the effectiveness of our marketing and advertising; and managing our communications);
Perform data analytics regarding usage of the Site (including market and customer research, trend analysis, financial analysis, and anonymization of personal information);
Guard against, identify, and prevent fraud and other criminal activity, claims, and other liabilities; and
Comply with applicable legal requirements, law enforcement requests, and our company policies.
How We May Share Information
Our agents, vendors, consultants, and other service providers may have access to the information we collect through the Site to carry out work on our behalf. Those parties are restricted from using the personal information collected through the Site for purposes other than to provide the requested assistance. Also, certain service providers may collect or access information through the Site to enable or provide services, tools, or other features available on the Site. We also may share information:
With our affiliates for internal business purposes;
If we are required to do so by law, regulation, or legal process (such as a court order or subpoena);
In response to requests from government agencies, such as law enforcement authorities;
If we believe disclosure is necessary or appropriate to prevent physical harm or financial loss, or in connection with an investigation of suspected or actual illegal activity;
With respect to analytics and statistical information, to inform advertisers about the nature of our user base;
In the event, we sell or transfer all or a portion of our business or assets (including a reorganization, dissolution, or liquidation); and
With your consent or at your discretion.
Your Choices
You can stop using our website any time you want.
Blocking cookies. Certain browsers may be configured to notify you when you receive cookies or allow you to restrict or disable certain cookies. If you choose to disable cookies, however, that could affect certain features of the Site that use cookies to enhance their functionality.
Disabling local shared objects ("Flash cookies"). We may use other kinds of local storage that function similarly but are stored in different parts of your computer from ordinary browser cookies. Your browser may allow you to disable its HTML5 local storage or delete information contained in its HTML5 local storage. Click here for details about deleting information contained in "local shared objects" or adjusting related preferences.
Options concerning third-party ad networks. For more information about third-party ad networks and services that use these technologies, you can visit www.aboutads.info and click here to opt-out or learn more about your options. You also may visit the NAI's site for additional options on how to opt-out of interest-based advertising.
How We Protect Personal Information.
We maintain appropriate administrative, technical, and physical safeguards designed to protect the personal information you provide against accidental, unlawful, or unauthorized destruction, loss, alteration, access, disclosure, or use. That said, it is not possible to guarantee the security of information transmitted online, and you assume some risk about the security of information you provide through any website, including this Site.
Links From Secret Message Link to Other Websites
On this Site, we may provide links to other websites that are controlled by third parties. Linked websites may have their privacy notices or policies, which we strongly suggest you review. We are not responsible for the content, usage terms, privacy policies, or any other aspects of websites that we do not own or control.
Surveys, Quizzes and Other Features
While you are visiting Secret Message Link, you may have the opportunity to participate in surveys or quizzes, or to use other interactive features that request information about you and your opinions and preferences. Your participation in these features is entirely voluntary. If you do choose to participate, please be aware that these features may be operated by a third party that is not controlled by Secret Message Link, and therefore the information you provide may be collected by the third party and subject to its privacy policy.
Children's Privacy
This Site is not designed or intended for use by children, and we do not knowingly collect personal information from children under the age of 13. If we become aware that we have collected personal information from a child under the age of 13, we will delete any such information.
Information for Users Outside India
If you are visiting Secret Message Link from outside India, please be aware that information we collect through the Site will be transferred to and stored on our servers in India. By using this Site, you acknowledge and consent to the transfer and processing of your data in the India as described in this online privacy policy. Please be aware that the data protection laws and regulations applicable to your data transferred to the India may be different from the laws in your country of residence.
Our Notice to California Residents
Subject to certain limits, under California law, California residents may ask us to provide them with a list of the categories of personal information that we have disclosed to third parties for those third parties' direct marketing purposes during the preceding calendar year, as well as the identity of those third parties. California residents may contact us as specified in the How to Contact Us section below to request this information.
How We'll Inform You About Changes to This Privacy Policy
We may update this online privacy policy periodically to reflect changes to our privacy practices, such as how we collect or use personal information. We will indicate at the top of this privacy policy the date when it was most recently updated.
How to Contact Us
If you have questions about this policy or our privacy practices, you may contact us by using our Contact us page. If you are a California resident inquiring about your California privacy rights, please include "California privacy rights request" in the subject line of your email.
Advertising Policy
To help us maintain the resources needed to create the quality content you deserve, we accept advertisements on our Site. We greatly value transparency and hope that this policy leaves you feeling even more confident about the content and service we provide.
Secret Message Link maintains a distinct separation between advertising and editorial content.
All advertising or sponsored content on Secret Message Link is clearly and unambiguously distinguished from editorial content through borders or other distinguishing elements and/or identified as an "Ad," "Advertisement," "Sponsored" or a similar designation indicating that the content is being provided by or on behalf of the sponsor.
All "native" ads or paid content are identified as an "Ad," "Advertisement," "Sponsored" or a similar designation indicating that the content is being provided by or on behalf of the sponsor.
The editorial content on Secret Message Link is not influenced by advertisements unless the content is sponsored content, in which case, the content will be clearly demarcated and/or identified with the title "Ad," "Advertisement," or "Sponsored", or a similar designation, indicating that the content is being provided by or on behalf of an advertiser or sponsor.
All advertisements and sponsored content appearing on Secret Message Link are subject to the Guidelines found below.
Ecommerce and Affiliate Link Disclosure.
Contributors and/or Secret Message Link may receive compensation for participation in third-party affiliate marketing programs, including purchases made through links to Secret Message Link's e-commerce partners, if any. Pages on the Site containing affiliate marketing links, including product reviews, will be demarcated and/or identified with a disclaimer.
Advertising Guidelines
These advertising guidelines ("Guidelines") set forth standards that govern the placement and display of advertisements and sponsored content (collectively "Ads") by any advertiser, agency, or advertising technology platform (collectively "Advertisers"). Advertisers must adhere to these Guidelines when placing Ads, including Ads purchased under the AAAA/IAB Standard Terms and Conditions, on websites or mobile properties owned or controlled by us, including secretmessagelink.com(collectively "Secret Message Link").
These Guidelines are intended to provide general parameters for Advertisers in connection with Ad creative and content served on Secret Message Link. They are not exhaustive and do not address every situation or issue that may arise in the course of business. Accordingly, these Guidelines are subject to change from time to time in Secret Message Link's sole and absolute discretion.
Advertisers are responsible for understanding and complying with all applicable laws and regulations, including FTC guidelines regarding advertising, native advertising disclosures, endorsements, privacy, and data security. All Ad's must be fair, truthful, and clearly distinguishable from editorial content. Advertisers are responsible for ensuring all Ads and related claims are adequately substantiated. Further, Advertisers must adhere to Secret Message Link's Prohibited Content Guidelines and Additional Standards set forth below, which are incorporated into and made a part of these Guidelines.
Ads served through networks or exchanges are reviewed regularly and, in addition to any other remedies, Secret Message Link may have, Secret Message Link reserves the right to remove, without notice, any Ads that do not meet these Guidelines, regardless of whether the Ad was previously accepted by Secret Message Link.